Bluemoon Veterinary Services is now offering Cold Laser Therapy
What is Laser Therapy?
A surgery-free, drug-free, noninvasive treatment to reduce pain, reduce inflammation and speed up healing.
How does it work?
The laser light is delivered through a noninvasive handpiece to treat the affected area. Your pet may feel a gentle and soothing warmth. Most treatments take a matter of minutes. As the laser is administered, many pets will relax, much like you would experiencing a good massage. The almost immediate relief of pain will allow your pet to be comfortable and any anxiety that your pet initially experienced will dissipate.
The beam of laser light is used to deeply penetrate tissue without damaging it. Laser energy induces a biological response in the cells called "Photo-bio-modulation", which leads to reduced pain, reduced inflammation and increased healing speed.
What are the costs?
Treatment protocols are unique to each patient and condition. Therefore, treatments can vary in time, cost and complexity. A consultation visit is always done prior to starting treatment.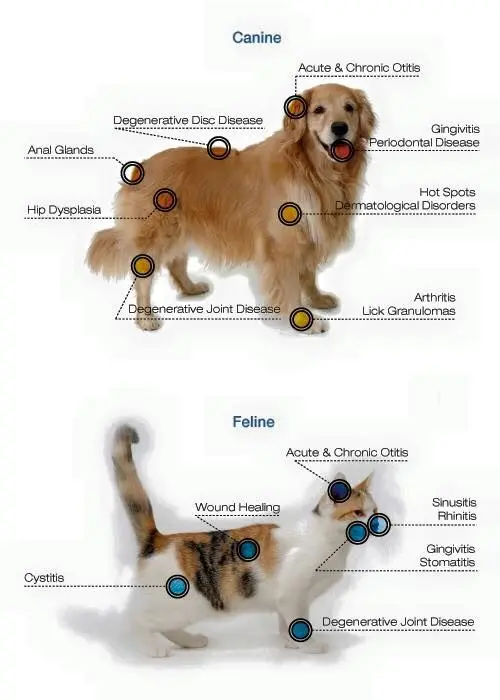 What can the laser therapy be used to treat?
Acute Conditions
Wounds
Allergies
Ear Infections- Acute or Chronic
Dermatological Disorders
Cuts/Bites
Oral Pain Relief and Periodontal Disease
Sprain, Strains and Fractures
Arthritis
Degenerative Joint Disease
Hip Dysplasia
Tendonitis
Post-surgical healing and Pain Relief
Geriatric Care
Lick Granulomas
Urinary Tract Infections
And More...